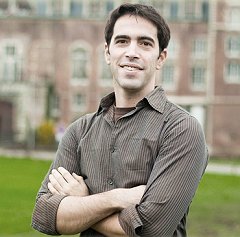 Registered user since Thu 24 Nov 2016
Bio:
I am currently a postdoc affiliated with HASLab, University of Minho, working with Luís Barbosa. Until January 2016 I was also affiliated with Distrinet, KU Leuven, working mainly with Danny Hughes and Dave Clarke. My work is mainly on coordination of distributed components, often associated to the Reo coordination language, and on formal approaches to software product line engineering. More recently I have been working with binding and component models for embedded devices in the context of the LooCI middleware and micro PnP.
I graduated in University of Minho, Portugal, for a 5 year degree in Mathematics and Computer Science. I studied abroad for 6 months as an Erasmus student in Bristol University, UK. I defended my PhD in Leiden University in May 2011, for my work carried in CWI, Amsterdam, in the group for Foundations of Software Engineering.
Affiliation:
HASLab/INESC TEC & University of Minho
Research interests:
Software engineering, Formal methods,Concurrency, Coordination models, Wireless sensor networks, Product line engineering, Functional programming languages, Programming in Scala
Contributions